Can I Sell My Old Pallet Racking?
Article added Friday January 29th, 2016
The quick answer is yes – but you'll want to be aware of a few things.
To quickly get in touch and speak to a member of our team, either call us on 0800 085 8117 or send us a message via our contact form and we'll get back to you as soon as we can.
Pallet Racking Systems are happy to look at your racking, take it away and pay for it.

There are multiple reasons why you might be at the point where you're thinking about selling your used pallet racking. Your business has grown and you're looking to upgrade the warehouse, you're moving premises and disposing of your racking has become a need, or you simply want brand new racking and have no need for your old.
Your two main options are scrapping or selling.
Scrapping your racking might seem more straightforward but with our speedy service we take the work off your hands by doing the hard work for you.
It's also almost certain that the price we offer you will be higher than the price you'd get for scrapping.
You'll also be helping the environment as extra energy won't be used to smelt the metal. The economic feasibility of recycling metal via a 'melt it' approach has also been shown to be questionable:
http://www.doitpoms.ac.uk/tlplib/recycling-metals/what.php
By Selling your racking, it simply gets passed on to another business without going through the needless process of the metal being reformed for another use. The business that inherits your second hand racking may well get several decades use out of it!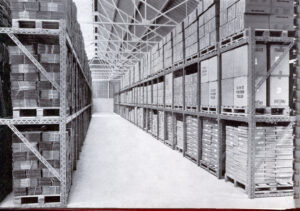 How does it work if we choose to sell?
There are three mains steps:
1.       You'll need to let us know about the history of your racking
The more information you can provide us with, the better. This will help us to vouch for the fact that it conforms to safety standards. If you have any documentation relating to your racking, this would also be helpful.
If you've had any repairs done, we'd also need to know about that – who did the repairs, when they did it etc.
It's also important to let us know about the original installation of the racking and so any documents relating to this would be helpful.
2.       We'll come round and inspect your racking
Our pallet racking inspector will come to visit you as soon as possible. We'll then be able to draw up a price offer what we think is suitable.
One of the things we'll be looking out for is spare parts and how easily available they are and how much they might cost the business that we sell your racking to.
The price we offer is almost certain to be better for you than you'd get from the scrap man.
3.       Make the decision to sell to us
Our team will call round when it is convenient to you to dismantle the racking. We will remove it from your warehouse and pay you promptly.
You'll have the reassurance that not only is the job being done swiftly; it also is being done in accordance with industry standards, with full regard to safety regulations.
Get in touch now by calling 0800 085 8117 or contact us via our form