What Are Common Mistakes To Avoid?
Article added Friday August 26th, 2016
Buying and implementing pallet racking is no mean feat – you need to ensure you have the perfect solution for you and your warehouse, within your budget, when you need it. There are so many options when it comes to buying, implementing and maintaining your pallet racking, so we're here to help. This article is here to provide you with a few tips and tricks to help you avoid key mistakes to save you money, time and effort when sorting your pallet racking.
If you have any further questions, visit our FAQs page, or call us on 0800 085 8117 to speak to an expert today.
Brand New vs Second Hand
Possibly the biggest and most detrimental mistake you can make (to your wallet) with your pallet racking is not considering all of your options; not only what type but also what age.
Many people overlook second-hand pallet racking when kitting out their warehouse. Our used pallet racking is of excellent quality and must pass certain expectations before we are prepared to sell it to our customers, meaning it's all just as good for your storage solutions as it is brand new. Choosing second-hand pallet racking can mean great savings – a large warehouse is costly to equip if you chose brand new pallet racking. Just because something has had a previous owner, doesn't mean it's any less functional or fit for purpose.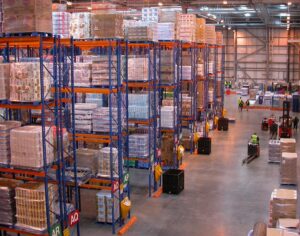 Not the One for You
When looking to invest in pallet racking, you need to ensure you pick the right type for you. At Pallet Racking Systems Ltd, we offer a whole host of different used pallet racking solutions, and a custom design service to guarantee you get the perfect fit for your needs. Different types of pallet racking serve different needs – for example, if you have limited floor space, a mezzanine floor could be the answer for you, but for someone who needs to stack their pallet racking, it's not the right option. Similarly, if your products move quickly in and out of the warehouse, then a dynamic system is a great option, but if you need your pallet racking to hold heavy loads, a cantilever system may be more suitable. There really is a perfect pallet racking system for everyone, and at Pallet Racking Systems Ltd, we're here to ensure all your needs are met.
Additionally, you need to consider your budget. Going with the cheapest option is not the best choice – this will inevitably mean you're not maximising your warehouse space. Consider pallet racking as an investment that will just keep on giving, and make sure your budget reflects this.
Machines & Money
To make the most of your pallet racking, it is a good idea to be prepared to spend money on new equipment to make the most of your pallet racking, and budget accordingly when investing. As most warehouses have forklifts for existing storage, it's likely you'll be ready for most types of pallet racking, but some types do require specialist machines, such as narrow aisle pallet racking. Researching specific types of pallet racking that meet your requirements before you commit to buying will ensure you're fully equipped and means that when you find the right pallet racking solution for you, there are no surprise extra costs for machinery.
Just Enough?
A common problem in pallet racking is that companies buy the pallet racking that they need right now, rather than what they will need in the future. To maximise your pallet racking, you need to plan for the future and cover all bases, preparing for more stock, a quicker turnaround and new products. With accurate planning, you'll inevitably be paying for storage that you won't be using efficiently in the short term, but it also means you'll be able to avoid the need to rely on temporary storage and evade limiting your efficiency in the future. When thinking about this, you need to see your pallet racking as an investment that will suit your growing business not just now, but in the future too.
If you have any further questions about the ideal used pallet racking solution for you, don't hesitate to call us on 0800 085 8117, or fill in our contact form and a member of our team will get back to you. We can provide expert advice and a custom design service to ensure you get the most out of your warehouse.