How Do We Inspect and Repair Pallet Racking in Line with SEMA and HSE Standards?
Article added Wednesday October 28th, 2015
If your business uses industrial scale storage equipment, you may have heard of SEMA. SEMA stands for the Storage Manufacturers' Association and they are responsible for developing codes of practice which have become standards for the industry.
Every UK workplace must comply with HSE rules. The HSE (Health and Safety Executive) are responsible for the enforcement and regulation of safety in British workplaces.
Rack Straightening
One of the most common forms of damage to pallet racking is bending. The normally straight bars of the racking can become bent from excess pressure or, more likely, impact from a forklift truck or vehicle backing into the warehouse for loading.
There are two options for dealing with bent racking: replacement of like-for-like parts and straightening.
In 2014, SEMA criticised a controversial procedure for straightening bent or damaged racks. The process, which SEMA call "high risk" and "extremely dangerous" involves using a hydraulic ram and jig to straighten the metal without unloading the contents of the racking first.
This option is favoured as a time saving method and one which involves less work and general disruption but could prove to be a health and safety risk to those carrying out the work as well as risking metal fatigue which could cause collapse in the racking at a later date.
This video shows how weakened racking can easily collapse from low speed forklift impact.
In the worst case scenario, a serious collapse could result in the death or injury of an employee. Lost stock as well as the time needed for more serious repair work could have a serious impact on your business.
SEMA recommend opting for replacement parts instead of attempting rack straightening.
If you want advice on replacement parts and how to find them, get in touch with us via e-mail or phone and we would be happy to talk you through the best options for your business.
Inspections
Recognising any damage to your pallet racking systems is vital to running a safe operation. Inspections can also prevent damage from occurring if a possible risk of damage is spotted.
SEMA require regular inspections which should follow a "hierarchical approach using 3 levels of inspection".
Damage inspection by warehouse operatives
This is an ongoing, less rigorous, inspection by workers in the warehouse which may involve looking out for obvious damage to the racking. Operators of racking should be trained "in the appropriate use and limitations of the storage equipment"
Weekly inspections as a visual check from ground level
A once a week visual inspection. This could be carried out by the person responsible for racking safety (PRRS).
Annual or biannual inspection by a 'technically competent' person
A rigorous inspection carried our every 6 or 12 months, taking into account all aspects of rack safety. At least once a year this must be done by a SEMA qualified inspector who will likely be from outside your business. A 'technically competent' person could be from your equipment supplier or the manufacturer.
For further information on this, see SEMA's bulletin on Rack Protection.
Annual inspections are also mandatory to comply with Health and Safety regulations. Download the Health and Safety Warehousing and Storage document for further information.
Any damage or defects must be immediately reported. You should also offload the contents of the racking and prevent anyone from using it until repaired or replaced.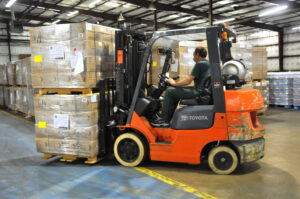 Avoid Damage
The most efficient option for your business is to avoid costs associated with damage by investing in rack end protection.We have over 45 year of experience and specialise in the sale of good condition used systems. We ensure that all of the systems we sell meet all current health and safety regulations and conform to the latest SEMA design codes of practice.
Get in touch with us today by phoning us free on 0800 085 8177 or E-mailing us at info@palletrackingsystemsltd.co.uk
Tags: HSE, Pallet Racking Protection, pallet racking repair, SEMA