Mezzanine Flooring: What Do I Need to Know?
Article added Saturday November 21st, 2015
Maximise warehouse, retail or office space – Give us a call on 0800 085 8117 or fill in our contact form to let us know how we can help.
What is Mezzanine Flooring?
It is likely that you have seen, shopped on or worked on mezzanine flooring even if you're not familiar with the name.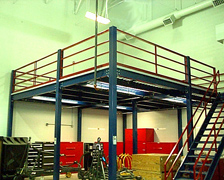 Mezzanine flooring is the name given to an added semi-permanent storey of space inside a current structure. They are often used in corners of buildings or along one section and in a warehouse they are likely to be made using similar steel supports as pallet racking systems and have a wooden floor. In retail premises, they can be used to add an extra section of shopping space. The best way to sum them up might be to imagine a large indoor balcony.
What could we use it for?
If you are short of space for smaller products that are better suited for types of shelving other than pallet racking, you should seriously consider investing. Mezzanine floors are not suited to forklift access and so is ideal for storing items that can be accessed or picked by people walking to the area. Tools could be stored within shelving on the new flooring or anything that can be carried by hand.
If space is taken up by stock or equipment, space for workers to do their job can be limited. This could be a Health and Safety issue as well as lead to decreased productivity where travels on access routes are hindered.
Apart from storing stock, mezzanine floors are a great way to house a division within your business. Products associated with the division can be placed within the area and sectioning it off from the rest of the business with walls can give it the feel of an entirely separate space.
Mezzanine flooring can provide a perfect alternative to building an office. Cost savings could be significant and an on-site location could improve business efficiency through improved communication and less time wasted traveling between warehouse and office.
Being on site could also lead to improved work rates if there is a tendency for 'slacking off' when the boss is not around. If the flooring allows unrestricted views across a warehouse or other facility, it could also go toward improving Health and Safety.
Create a space for workers to take their breaks. The area could be fitted with seating and food facilities as well as lockers and toilets.
How else could we benefit?
As already stated, you can store more stock in one structure allowing you to grow your business.
No need to move to larger premises
If your business is expanding, a mezzanine floor could save you a significant amount of money, planning and time by giving you the space you need without relocating.
A Mezzanine floor allows you to optimise capacity without costly building work.
Improve business efficiency
By keeping work and stock in close proximity, you improve travel time between tasks, improve communication and could even reduce the cost of fuel used by forklifts or other forms of transport, depending on the distance of your alternative.
Will my warehouse or building be able to accommodate it?
If you have areas of a warehouse or another building with empty space 'in the air', you should be able to benefit from a mezzanine floor.
If you are a retail or other type of business, it is likely that you will need tailored advice to be sure if you can have one or not. Pick up the phone and give us a call on 0800 085 8117 or fill in our contact form and a member of our staff will get back to you as soon as possible
How much will mezzanine flooring cost?
Ultimately, the new flooring could pay for itself with a significant cost saving and/or the added productivity. Rather than get a rough estimate of costs, get in touch with us for an answer relevant to your premises and requirements.
You can reduce your costs by buying quality second hand mezzanine flooring from us. The used mezzanine flooring is of first class quality and is checked to meet all relevant regulations. We have stocks of competitively priced flooring and will be able to offer what you need at a price that's good for you.
How Secure are they?
If you've walked over mezzanine flooring you may have wondered how secure the wooden flooring is. With potentially tons of products bearing down on it, you could be left feeling that the floor is less than secure.
This is not the case. They are constructed using steel supports and can be wall mounted for added security. We work to make sure that all mezzanine floor installations meet current UK Building and Health and Safety regulations.
Can you help us take the next step?
Yes, we can give all sorts of advice and help you to plan, buy, deliver and install the mezzanine flooring that will help your business. We will tailor our service to meet your needs.
Your first step will be to take advantage of our planning service to make sure your mezzanine floor is configured to your space and that it conforms to UK Building Regulations as well as meets your unique needs.
For more information, see our Glossary entry on Mezzanine Flooring, give us a call on 0800 085 8117 or fill in our contact form.
Tags: Mezzanine Floors