What are the benefits of introducing mezzanine flooring into a warehouse space?
Article added Wednesday August 27th, 2014
Industrial mezzanine flooring provides a semi-permanent structure that is usually free standing and can be dismantled and relocated. Mezzanines are often used in warehousing, distribution and manufacturing facilities with high ceilings.
Below you will see there are many benefits to introducing a mezzanine floor into your warehousing space rather than extending your current premises or moving to an alternative premises.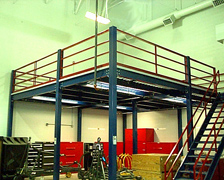 Increasing Your Warehouse Storage Capacity
Increasing the square footage in a storage space – preventing a waste of potential capacity by changing air space into floor space.
The potential to double the square footage of the floor it is built on, allowing you to increase your stock levels.
A mezzanine floor allows you to increase space in a situation where you are renting or leasing a property where building work cannot be conducted.
Ensuring that that you have the infrastructure to enable you to satisfy business demand
Maximising the use of an existing premises and avoiding the need to move to a larger warehouse or extend the existing premises.
Introducing an Adaptable Structure
Mezzanine floors are constructed on a steel framework. The method of construction is very flexible, as the structure can be designed to fit into almost any warehouse space, so long as the warehouse has sufficient height.
If the need arises, a mezzanine floor can be taken down and adapted for re-use in another situation, but equally they will appear as part of the fabric of the building.
The flexible design options mean mezzanine flooring can be used for many different purposes – for example to increase storage space/stock levels, introduce office space or possibly to house electrical equipment.
The Lower Construction Costs
Introducing a mezzanine structure often provides the most economical cost-efficient solution to warehouse storage issues.
A mezzanine structure is cheaper than expanding on warehousing space with additional building construction. Saving the cost of architect's drawings, gaining planning permission and paying for the building work. Whilst also preventing the hindrance of having to run the business around building work.
Cheaper than relocating your business to a new premises – preventing the extra capital costs of a move will prevent the stresses on your business finances whilst making the most of the available warehouse capacity.
Saving Time and Business Disruption
Fast construction with minimum disruption to everyday business activity
Prevention of time disruptions to the business activity that may occur with new construction or moving to a new premises.
Mezzanine flooring can be integrated into many warehousing systems – they can be integrated into conveyor systems, pallet racking and shelving or offices.
No Planning Permission Needed
Planning permission is not required for the introduction of a new mezzanine floor – however you must ensure that its construction conforms to current Health & Safety regulations. See the following Health & Safety Executive website for more information: www.hse.gov.uk/construction/cdm.htm.
Although planning permission is not required, at the planning stage you will need to familiarise yourself with the relevant building regulations, and make an application for Building Regulations Approval.
Increasing Property Value
As well as increasing your optimum storage capacity, the introduction of a mezzanine floor can add value to your property as this construction will be regarded as part of the fabric of the building.
Mezzanine flooring can add value to your property as it can allow you to introduce separate office space into manufacturing warehousing or storage warehousing facilities.
The amount that a mezzanine floor adds to your property will depend on the design and function – whether you introduce a simple storage mezzanine to increase storage capacity or a more complex internal office block with partitions, electrics, data cabling, heating and flooring.
Pallet Racking Systems Ltd have the experience and expertise to help you to plan and install a mezzanine floor in your warehouse space. Contact us to discuss your requirements.