What is a Pallet Racking Inspection & What Does It Involve?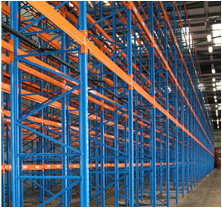 A pallet racking inspection is essential in warehouse environments, and it is designed to assess your racking system's suitability and safety.
The inspection is a systematic visual warehouse pallet racking inspection made by a qualified inspector. These are usually conducted at ground level, with the option of high-level inspections with the aid of a scissor lift.
The inspector will assess your racking components, including beams and uprights, on each aisle. The inspector will look for damage or weaknesses such as bends, buckles, and dents. They will also look for other risks, such as floor debris and incorrectly stored pallets. After the checks are completed, they will provide you with a full report detailing non-critical and critical risks.
Your business should schedule your pallet racking inspection in advance so that it does not disrupt your operation. 
HSE Guidelines For Pallet Racking Safety
The Health and Safety Executive (HSE) produces guidance documents on occupational safety. While they are not law, following them will usually be enough to ensure you comply with the law.
HSE's reference guides are easy to understand, and for the purpose of preparing for a pallet racking inspection, you should refer to HSG76 Warehouse and storage: A guide to health and safety.
The guide outlines your responsibilities and suggests that:
You should have a regular and thorough pallet racking inspection at least once per year, covering your racking system and mezzanine floors.

You should be vigilant about third-party work in your warehouse, and it is recommended that inspections are carried out by contractors that are SEMA approved. Installation, maintenance, and repair work should also be conducted by a SEMA approved expert.

It is recommended that you use a warehouse planning expert with relevant SEMA training, ensuring your layout is efficient and safe.

If you intend to have an internal inspector, they should undergo SEMA approved inspection training.
The laws that apply to warehouse environments include the Health & Safety at Work Act 1974 and Provision & Use of Work Equipment Regulations (PUWER) 1998.
Why You Need An Inspection
A pallet racking inspection should occur annually and whenever you buy or sell used pallet racking. The size of your system does not matter. So, even if you only have a single bay, you should have regular inspections.
Inspections not only help you keep your workplace safe for your workforce, clients, and visitors but will also help you avoid significant costs that can result from health and safety incidents. Ongoing inspections also allow you to identify trends, such as same location damage, so that additional protection can be added to counter these risks.
To fulfill your legal health and safety obligations, checks should be a continual process. Your team should report damage as soon as it occurs, you should conduct regular in-house pallet racking inspections and arrange an annual qualified pallet racking inspection.
If you are considering purchasing a second-hand pallet racking system, Pallet Racking Systems has a wide choice and offers a design and planning service to help you meet your health and safety obligations. Contact our team today for further information.
Tags: Pallet Racking, Pallet Racking Inspection, Warehouse Pallet racking