What Pallet Racking Accessories Should We Invest In?
Article added Monday December 7th, 2015
Get quick advice on pallet racking accessories – Give us a call on 0800 085 8117 or fill in our contact form to let us know how we can help.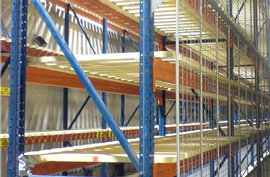 Pallet Racking accessories are add-ons for pallet racking systems that assist in safety or efficiency.
It is likely that your business already uses some of these accessories but that you have assumed they were permanent features of the racking. Common accessories, such as anti-collapse meshing, might look permanent but they can be removed, added or exchanged for more effective alternatives.
Accessories that can be found in many warehouses include timber decking, a variety of frame protectors, back stops, shelf dividers and column guards. The purpose of most accessories fall into two main categories:
Safety
In order to comply with Health and Safety regulations, you may need to invest in certain accessories. Safety accessories can prevent damage to racking from Forklift trucks and delivery vehicles backing into the warehouse. This could prevent costly repairs to the racking as well as prevent injury to your staff. A floor mounted column guard would be an example of an accessory that would prevent damage to the racking, being fixed at the base of the leg of the racking.
Other accessories that provide safety prevent pallets and stored goods from falling. Anti-collapse mesh would be an example which allows a view of the goods but prevents them being pushed off the rear of the racking.
Efficiency
Many accessories for pallet racking provide increased efficiency. A half pallet insert, for instance, could double the space in your bays offering your twice as much storage. Timber decking would be another example of an accessory that offers increased efficiency. Timber decking provides a 'floor' to levels of your racking system which allows storage of goods that either are not suitable to go on a pallet or for convenience. Certain goods would be much more effectively stored on timber decking than the alternative.
The following examples are just some of the common forms of pallet racking accessories. To find out more about any of these or to get advice on which accessories your business could benefit from, give us a call on 0800 085 8117 or fill in our contact form to let us know how we can help.
Frame Protectors
Pallet Racking Frame upright protectors offer cost effective protection for your Pallet racking frames. They can be fixed at the base to prevent low level impact from forklift trucks or pallet trucks carrying heavy goods. Frame protectors are made of robust metal and are able to withstand impacts that might damage racking.
Vertical Back Stops
Back stops are vertical beams which prevent goods from being pushed out of the racking. For upper levels, this is particularly important for reasons of health and safety. They would commonly be placed at the rear side of the racking to prevent goods being pushed out of the other side while loading or unloading. Helpfully, vertical back stops allow for a clear view of the racking contents.
Anti-Collapse Mesh
Like back stops, anti collapse meshing prevents goods or pallets from falling out of the racking. The mesh is better than vertical back stops for preventing smaller goods from being pushed out. It also prevents workers from climbing through the racking as a shortcut to another aisle.
Timber Decking
Timber decking comes in two styles: close boarded and slatted. Close boarded is a solid floor of wood on which all sizes of goods can be stored. This is effective for storing smaller goods or different types of goods next to each other in a bay. Slatted timber decking acts as a permanent pallet across the whole level of racking and allows for storage of all types of goods. Pallets can be placed on both of these types of decking.
Rack End Protection Barriers
Rack end protection can be fixed along width sections of the racking to prevent low level impact from forklift trucks or other vehicles.
Safety Barrier System
Protect racking or areas of your warehouse with a safety barrier system. Like motorway barriers, these barriers prevent impact from forklift trucks and delivery vehicles which might back into the warehouse. Barrier systems could also be added around an area such as an internal demountable office which may be vulnerable to collapse if impacted by a vehicle.
For more information, see our Pallet Racking Accessories page https://www.palletrackingsystemsltd.co.uk/products/ancillary-products/ , give us a call on 0800 085 8117 or fill in our contact form.