HiLo Racking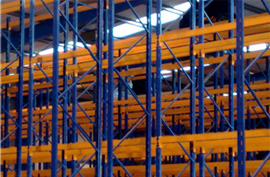 We stock used HiLo racking in good condition – here at Pallet Racking Systems, we purchase, supply and install high quality, second hand warehouse racking. Based in the Midlands, we can deliver to anywhere in the UK.
Our friendly, expert staff are available for a quotation or to advise, whatever your storage needs. Contacting us is easy – just fill in the form opposite or call us on 0800 085 8117.
All second-hand racking and spares available for sale, have passed our stringent inspections. Only once they have passed are they are offered to our customers as a cost-effective alternative to new pallet racking.
We often have HiLo racking in stock – you can check our current stock online here. As we have a rapid turnover, we don't always have all our latest stock listed, so if you don't see what you are looking for, or want something specific, just give us a call on 0800 085 8117.
Peace of Mind
All our clients are invited to view our second-hand pallet racking materials prior to placing an order to ensure complete peace of mind.
HiLo racking is extremely durable and versatile which makes it ideal for buying as a used racking system for your factory, shop, office storage or warehouse.
We completely understand that buying pallet racking is a big investment which is why we go the extra mile to ensure you buy the right system for your warehouse or storage facility.
Complete Design & Installation Service For HiLo Racking
We are able to offer our clients a full design service which will maximise your storage needs, drawing on the experience and expertise of the sales and design team we can offer the most cost-effective solution.
The systems that are offered conform to the latest FEM 10-2-02 and S.E.M.A design codes of practice which has become the recognised standard in the UK and Europe.
Competitive Pricing
Our pricing is competitive. Contact us to see how our products could meet your needs.
Contact us today via our contact form or call us on 0800 085 8117 to find out how we can help.