Dexion Longspan – Used Racking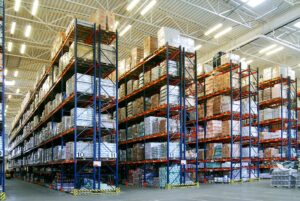 We supply good quality used dexion longspan racking and shelving from our warehouse in Willenhall, West Midlands, WV12 4LH. We hold extensive stocks so are highly likely to have exactly what you need.
Used dexion longspan racking is an excellent way of keeping down the cost of your pallet racking. At the same time, you can be proud to be operating your business in an environmentally friendly way!
Here at Pallet Racking Systems Ltd, we have many years of experience and pride ourselves on the quality of the service we provide. You can be confident that the used dexion longspan pallet racking you buy from us, will be of good quality and will conform to the relevant industry standards. In addition, our prices are always extremely competitive.
Our experienced staff can advise on the suitability of various types of pallet racking for your situation. They can also help with the planning of your warehouse.
From our warehouse in the West Midlands, we can then arrange delivery to your warehouse to suit your requirements. If required our team of experts can erect the second hand pallet racking on site for you. We deliver across the whole of the UK.
The racking systems and warehouse shelving units offered conform to the latest FEM 10-2-02 and S.EM.A design codes of practice which is the recognised standard in the UK and Europe.
Contact Us For More Information
For more information about dexion longspan and alternative used pallet racking products and services that we have available , give us a call on 0800 085 8117 or complete the Enquiry Form on this page.
You will find more information about Pallet Racking, and the various issues related to the purchase, installation, safe use and maintenance of your warehouse storage facility, in the articles on the FAQ page on this website.
Contact us today via our form or on 0800 085 8117 to find out how we can help.